New Ivarest Poison Ivy Itch Spray Provides All-Day Comfort
Now itch relief is just a spray away with new Ivarest Poison Ivy Itch Spray…No rubbing, no mess for use anywhere and anytime.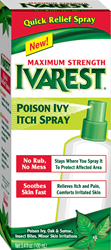 Oak Brook, IL (PRWEB) April 01, 2015
Poisonous plants (poison ivy, oak and sumac) have unfortunately benefited greatly from climate change in recent years, increasing significantly in number and rash-causing potency. Most Americans will develop an allergic reaction if exposed to poison plants (according to the American Academy of Dermatology). So as outdoor enthusiasts and families prepare for summer adventures in nature, they should be aware that the risk of an uncomfortable poison plant reaction is greater than ever. This year, Ivarest adds a new treatment to the well-prepared family's summer kit – Ivarest Poison Ivy Itch Spray gives consumers the means to treat a reaction throughout the day, even away from home.
New Ivarest Poison Ivy Itch Spray cools and soothes irritated skin with proven medications, including pramoxine hydrochloride (an analgesic to stop the itch), and zinc acetate (a skin protectant to dry the rash). The formula also includes glycerin, which prevents dripping and keeps the medication where it's needed. Because it goes on clear and no rubbing is needed, sufferers and parents can use the spray anytime throughout the day when cleanup after application isn't practical, or anytime additional relief is needed … plus, the no-touch application is gentle enough for even the most painful rashes.
Ivarest Spray is the perfect complement to Ivarest Cream, which provides a comprehensive treatment for poison plant reactions and insect bites. Ivarest Cream's double relief formula contains an antihistamine and analgesic to soothe itch fast and stop the reaction. Ivarest Cream also provides a protective coating to hold medication in place and dry the weeping rash for up to 8 hours.
For more information about Ivarest Products, visit http://www.ivarest.com.
Continue at source:
New Ivarest Poison Ivy Itch Spray Provides All-Day Comfort