Dancing With the Stars judge Julianne Hough wanted to have a Halloween look so gorgeous, it was scary — and she definitely succeeded this week, thanks to her emerald-green Poison Ivy-inspired ensemble. Below, read on for the scoop on how she achieved her elegantly evil look (and get a peek at her adorable puppy, who makes a return appearance this week!).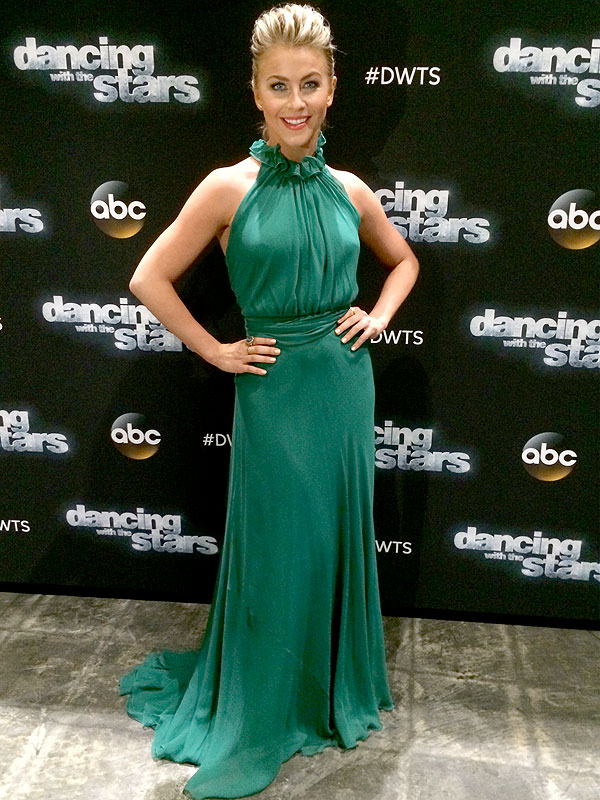 Courtesy Julianne Hough

"We loved this Alberta Ferreti dress and have been waiting for the perfect moment to wear it; the Halloween theme meant that we needed something a little richer and I didn't want to go down the obvious black route," Hough tells PEOPLE. "[Stylist] Anita [Patrickson] and I were inspired the fabulous Poison Ivy character but we had to rein it in a little so as not to get too literal. The leaves Riawna [Capri, her hairstylist] added to my hair were minimal enough to feel clean, chic and fashion-y, but outside the box enough to add a little character to my look."
Says Patrickson of pulling together Hough's Halloween look, "The biggest challenge was keeping her look fashion forward and not too costume-y. It all came together last minute, actually, with Julianne's genius suggestion of adding something cool into her hair. Within 5 minutes we had dragged out my secret box of tricks full of flowers and leaves and 'Poison Ivy à la Hough' was born. The result was a super sexy, very elegant and glamorous ensemble."
Capri loved the chance to have a little fun (without going too far, of course!). "Adding in some leaves to her hair was the best part! It's not everyday you can throw beautiful green leaves in your hair and have it look awesome," she says. Hough's reaction to the finished look? "Yup, that's it! Perfection!"
RELATED: See all things Dancing with the Stars right here!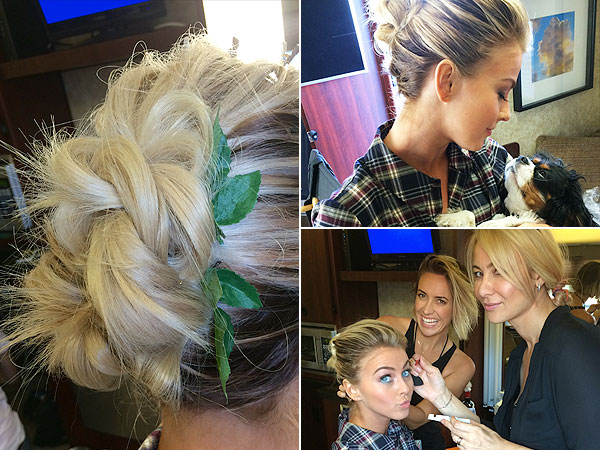 Courtesy Julianne Hough
Makeup artist Marianna Elias played up the sexy-villainess look with extra shimmer. "Julianne wanted to add a sparkle and a special deep green hue to the eye look," she says. "I end up making it by scraping two different pressed eyeshadows into a loose form and mixing them with a warm (also loose) gold glitter. I added the mixture on her eyes over a shimmery cream shadow. That was the most fun part!"
All three members of the glam squad stress that the key to pulling off such a bold look is to enjoy yourself while doing it. "Mix different hues of green, add glitter! No fear!" advises Ellis. Capri says, "There isn't a better time than Halloween! to have a blast." And finally, Patrickson shares: "My greatest sadness is when people are afraid to try something for fear of making a fashion faux pas — fashion is supposed to be wild and fun!"
Loving it? Share your thoughts below!
–Alex Apatoff
Originally from:
Julianne Hough's DWTS Photo Diary: See Her Scary-Sexy Halloween Look