Archives for January 2015
[This is a review of Gotham S1, E11. It will contain SPOILERS.]
–
Gotham returns after a brief hiatus, ready to kick off the next chapter in Jim Gordon's illustrious career: Arkham Asylum. New sets, new faces; same troubled show. Just don't deny that it's fun.
In "Rogues Gallery", written by series story editor Sue Chung, Guard Gordon (Ben Mckenzie) investigates a recent attack on an inmate, which leads to a shocking discovery of experiments being performed. Gordon's investigation continues as a friend is made in fellow co-worker Dr. Leslie Thompkins (Morena Baccarin), and Gordon taps GCPD's own Harvey Bullock (Donal Logue) – as well as his new boss, Director Dr. Gerry Lang (Isiah Whitlock, Jr.) – to help deal with the case.
Elsewhere, Selina (Camren Bicondova) rescues Ivy (Clare Foley) from the cold, while Maroni (David Zayas) rescues Cobblepot (Robin Taylor) from himself (Robin Lord Taylor). And meanwhile, Barbara Kean (Erin Richards)… lays in bed.
Little Batman (David Mazouz) stole the show with his rooftop-leaping, villain lair-visiting adventure in last year's finale . As such, this week's return episode is shackled with the responsibility to prove that this series deserves, yet again, to exist on its own merits. That question is still left unanswered, even after this week's airing; however, there does seem to be an irrefutable allure to whatever amalgamation of forced television mechanics creator Bruno Hellar is tacking on to the word "Gotham".
This week's episode is less a story, more a virtual tour of the impressive sets that Gotham now has – except, it's always had wonderful set design. An electrical attack is, if anything, an extremely underwhelming premise to use in an obviously archaic mental facility. More importantly: no one is really all that interested. Guard Gordon, as angelic as he may be, is basically forced in to caring about this crime after the few co- workers he has are comfortable simply dismissing it, and it absolutely feels as empty as that. At no point is Gordon's journey through this story anything more than a few grunts and intense stares, all in an attempt to get home to… nobody. (Apparently his apartment smells, as well.)
Bringing in Morena Baccarin (Homeland, V) as Arkham's Dr. Leslie Thompkins is a solid decision, as she's proven to be able to easily take control as a strong lead, or replace a strong lead who never existed, as is the case here. Barbara, who has the most screen time of all her episode appearances here, is still in bed, while Thompkins is delivering sage wisdom to Guard Gordon. Who is talking to Barbara? Poison Ivy, of course. Somehow they need to make Barbara more than she is, and right now it's clear they still haven't figured out that piece of the puzzle yet, to which Baccarin is likely greatful.
Fortunately, we are allotted a very brief moment in "Rogues Gallery" to enjoy the impressive guest stars of this week's episode – Christopher Heyerdahl as "Electrocutioner" Jack Gruber, and Allyce Beasley as Nurse Dorothy Duncan – before they're essentially thrown to the side as collateral damage to some great ideal. Hopefully the ideal will be revealed soon (and not be "Batman"), but there's no point in relying on that. Like in many previous episodes of Gotham – especially in all the successful executions – these seemingly superficial stories can be brought to life by the character actor that's given the role. You can absolutely see that both Heyerdahl and Beasley are ready to do more than what's given to them – only nothing more is needed of them. They're not Gotham; they're not Gordon; they're not… Batman. So: where's the substance?
Whatever creative direction there is behind this series, there's clearly a lack of appreciation of the source material, and it's beginning to make a mess of the overall intention of the series. Gordon doesn't need to be Batman (in voice); Catwoman doesn't need to be friends with Poison Ivy (in spirit); Arkham Asylum can exist, and we can visit, without the rent-a-guard treatment. Gordon is simply one piece of a much bigger, more interesting world, and at no point has any of the producers taken the time to establish that, yes, Jim Gordon is actually interesting. (Perhaps he simply isn't.)
Comic books are 24 pages of beautiful drawings with typically few words. Still, superficial and pompous is something the art form is not – and something Gotham very much is. Comic books simply can't afford such things. Month after month, year after year, comic book writers have to earn their continued audience, or else the comic dies, or they get fired. They're told which characters they can and can't use, and then they're expected to write an interesting story… simply to exist, and not because of name alone. Why is this show different? Why is Gotham allowed to stand on the shoulders of giants while disregarding the hard work of those who have invested their time in establishing this property?
Bruno Heller can certainly make a show that does well on CBS – as can many people. When it comes to Gotham, however, it feels as if we're stuck with a bunch of television tropes which viewers must then use their own affinity of the franchise on, in order to make this series enjoyable – which it absolutely can be. Throw out namechecks all your want; burn through all the earned good will; Fox does not care. At some point, though, someone at Warner Bros. Entertainment, parent company of DC Comics as well as Warner Bros.Televisions, who produces this show – including many outstanding ones – is going to have some very good questions that need to be answered.
Gotham continues with "What the Little Bird Told Him" on January 19th, 2015. Watch a preview for the episode, below:
Get our free email alerts on the topics and author of this article:
TAGS:
Originally from: 
'Gotham' Winter Premiere Review: Fun, Failure, and 'Bed' Barbara
Neighbors who live in my subdivision tell me that my house was one of the last houses built in the neighborhood. I suspect it was, because the lot is not the most attractive. It slopes down to bottom land and a creek a few hundred feet away. It is full of trees, some 30 of them, that are way too close together. That means they are very tall and skinny. All parts of the lot behind the house are mostly shaded by the trees and one section behind the garage is very steep. So it is almost impossible to grow anything in this area, especially the steep part.
Years ago, I decided to plant a ground cover in that area to control erosion and provide some type of cover that I did not have to mow or maintain. I selected English Ivy and it gradually covered the steep area behind the garage. What I did not know was that not only does it cover the ground but it also climbs trees. Now, it has not only completely covered the trunks of three or four of my trees, but also a couple of the neighbors' trees. It attaches itself to the tree trunks and grows up 50 feet or so. It crowds out most other plants under the trees, except poison ivy, which I continually keep on the lookout for. Maggie likes to romp through this area and hunt for voles and other critters and occasionally gets some poison ivy oil on her whiskers that she then shares with me. You can see why I try to keep the poison ivy under control.
Many people have asked me what kind of a ground cover they can plant in areas similar to my spot behind the garage. I used to recommend English Ivy, until I found out it is a climber. Now many landscapers do not suggest it because it is so invasive. I wish I knew about that 30 years ago. Now, more people want to know how to get rid of it, rather than planting it.
I did some searching for ground covers on the Internet and found some excellent ideas at www.hgtvgardens.com where they list some 300 different ground covers that do well in shady areas. Some you might want to consider are: common periwinkle, lily of the valley, pachysandra, Algerian Ivy (variegated) or bugleweed. Check out this site where you can select based on your specific location in sun or shade and other variables. Also, I suggest you look at the U of I page at http://urbanext.illinois.edu/hort where you will find all kinds of horticultural information. You can also check with your local U of I Extension office or master gardener for help with your horticultural questions. In addition, you might even be interested in becoming a master gardener. You can find details about that program on the same web page above.
Now is the time to:
Read a good book
Start your annual diet 
But finish your Christmas candy first
Call of the Week:
Q: When are you supposed to mulch perennial flower beds?
A: Normally you do not need to do that until the ground freezes. You can also mulch around rose bushes at the same time.
Stuart Hawbaker can be reached at jmatherly@herald-review.com.
See original article here:  
DC Comics
' iconic female characters have been rendered in classic 1940s and '50s pin-up style as part of the publisher's Bombshell Variant promotion.
Artist Ant Lucia's retro takes on Wonder Woman, Catwoman and Poison Ivy have been revealed ahead of their release in June.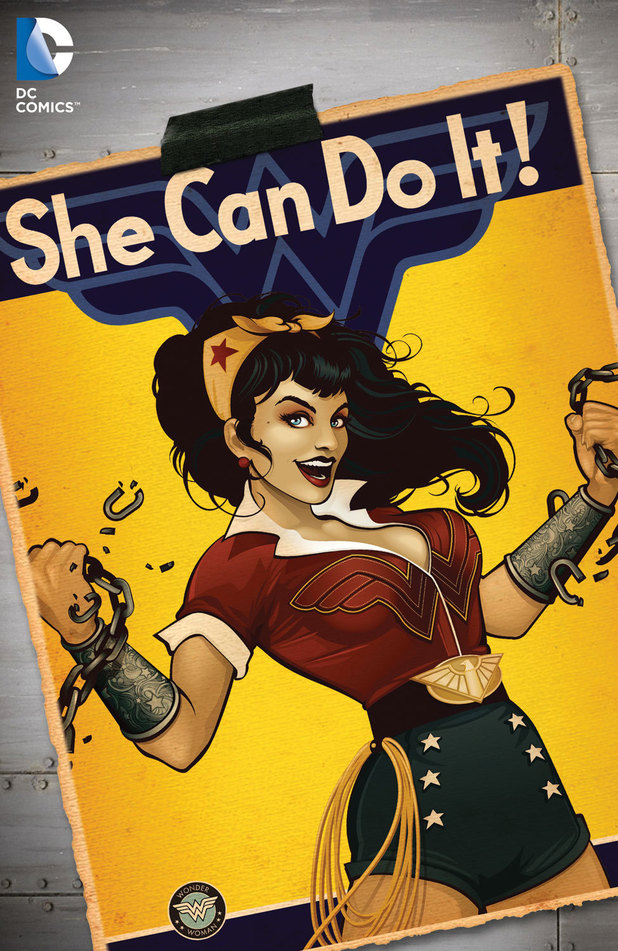 The special variant covers will feature on 20 of DC's best-selling titles that month, including
Action Comics
#32,
Detective Comics
#32 and
Green Lantern
#32.
DC Collectibles' Bombshell Statue line served as the inspiration for the Bombshell covers.
"I'm so proud of the work we've accomplished on the Bombshell line and very excited to see them become part of the cover series," Lucia told USA Today. "It has been a privilege to work with the team at DC Collectibles and watch these develop."
She added: "Having my art on the cover of DC's comic books has been a dream of mine since I was very young so this is particularly special to me."
Link: 
DC Comics women given retro makeovers for Bombshell Variant covers